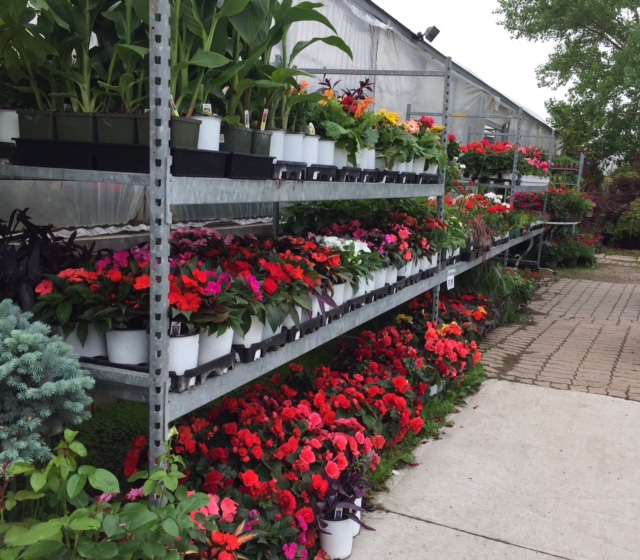 If you are looking for new trends and ideas for your personal Garden Oasis, Antler's Garden Centre and Retail Store is the place to be!
Feast your eyes on our banquet of annuals and perennials, offered in a menagerie of colors. Our ever-expanding Garden Centre is stocked with a fine selection of fruit and shade trees, evergreens and ornamentals, Pom Poms and shrubs all carefully chosen to suit even the most discerning of gardeners. We look forward to meeting you!
Go wild with our supreme collection of ornamental grasses, tropicals and pond plants, or go natural with our mosses and groundcovers. If you can't find it ask one of our enthusiastic Retail Team Members to place you in our wish book and we will do our best to find it for you! We want to go that extra mile for you!
Whether you want to dress up your patio or deck with Cast Iron Urns and Planters, add an Arbor or Bistro Set, or just simply complete the finishing touch with a lantern or torch, our retail store has what you need. While browsing through our vast array of brass lanterns, stand alone or table top fountains and gifts.
The ambiance isn't all that Antlers has to offer. Free Seminars are held regularly on a variety of topics from seeds to pruning your shrubs and trees, tuning your lawnmower, fertilizing your grass scapes, or building a pond in your backyard. Our well informed and educated team are happy to answer your questions and guide you towards creating your own little piece of paradise.
We offer the service of delivering and planting any shrub or tree that you have purchased. Planting includes the digging of the hole, application of Myke root developer, staking of the tree and mulching of the area around the tree.
Inquire at the retail desk for pricing information upon purchasing your tree.
Products & Plants
Here are some new products that we are excited about and hope you will be too.
[recent_products per_page="4" columns="4"]
Equipment Sales
With over 75 years combined experience, our factory trained service technicians can repair almost anything. From grass trimmers to riding mowers, chainsaws to chippers, we will make sure your equipment is performing at its best.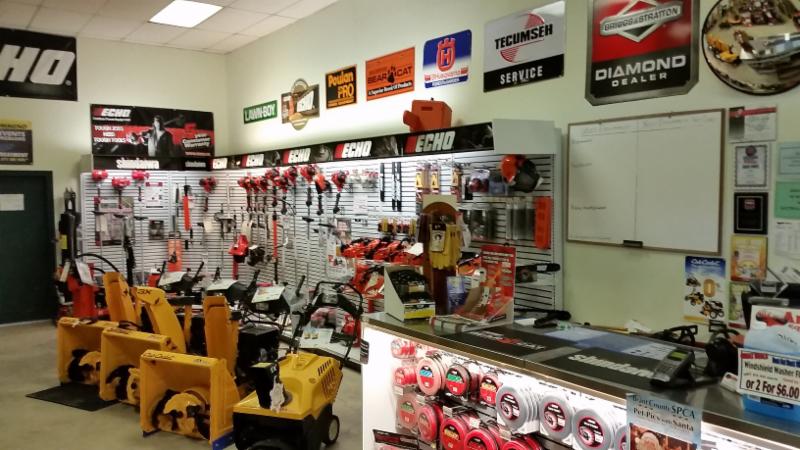 If you are in the market for a new piece of yard equipment please don't hesitate to come and visit us. We are your local dealer, and of course service centre, for Cub Cadet, Echo, Bearcat, and Shindaiwa.
We are also the factory authorized repair centre for most major brands, including Briggs & Stratton, Kohler and Kawasaki Engines, M.T.D. Products, Weedeater, Husqvarna, Poulan Products, Lawnboy, Canadiana, Brute, Briggs Power Products, and Troy Bilt.
Come in and see one of our friendly, knowledgeable staff members who would be more than happy to help you choose the right piece of equipment for your job.
If your perennial, tree or shrub dies within the first 30 days of purchase, we will replace it at no charge to you (planting & delivery not included in this guarantee). Anytime after the first 30 days, for your life, you will only pay half of the current ticket price to replace.
Please keep all your receipts! Should you require a replacement, you must bring your receipt in to our retail store. We cannot honour a replacement without a receipt.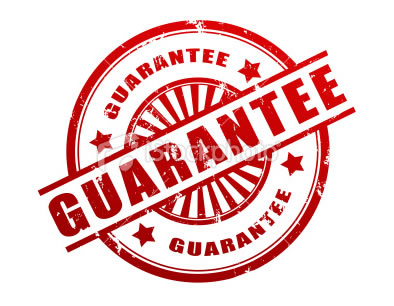 Earn points and benefits!
Join our Loyalty Program
Learn More
Receive 10% off your next in-store purchase!
Some exclusions apply. Discount may not be used for Service programs or Lawn Equipment.